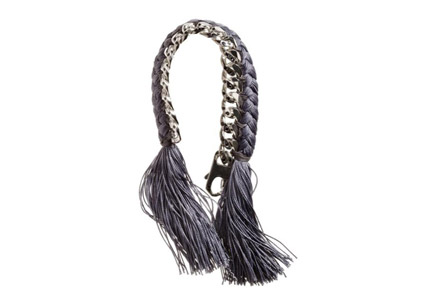 Alyssa Norton
Alyssa Norton began her career as a painter before studying jewellery at Mexico's Institute of D'Allende. Inspired to explore the effects of light on silver and contrasting materials, and she began combining fabric with painted neon plastics and metals. By 2004, Alyssa Norton's eponymous jewellery line was firmly established, and a collaboration with Narcisso Rodriguez asserted her position at the apex of high-end fashion. Alyssa's iconic pieces incorporate silk and silver, chains and thread, replacing closures with ties and wrapping. As versatile as they are visually arresting, Alyssa's works can be worn as necklaces, bracelets, belts, or exotically opulent hair pieces.
The Piece
In order to befit Cabinet de Curiosité's emphasis on fine craftsmanship and premium materials, Alyssa Norton has created three exclusive versions of her signature hand dyed braided silk and chain bracelets entwined with diamonds.
- Sterling silver chain with black diamonds, hand dyed braided silk.
- Vermeil chain with diamonds, hand dyed braided silk.
- Rose gold vermeil chain with diamonds, hand dyed braided silk.